Changes are taking place at the old Grange Hall in North Chittenden. The Historic Building Preservations Committee, which operates only with the approval of both the Selectmen and the Historical Society, has been planning the restoration of the historic 1830 building for a while, and now the plans are being put into action. This fall the project was broken into five phases to achieve use of the building as soon as possible. The first phase, scheduled for 2006, was to install the well and septic system and to move the access back to the original road site. And it is done!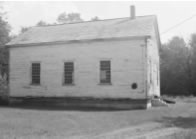 In the spring of 2007, construction will begin on the shell of a small addition on the southeast side. This will also address some structural conditions on the southeast side and roof. An engineered support system will be installed under the Grange Hall floor. (The pronounced sag in the floor was one reason the Selectmen banned use of the building for safety reasons.) The finished lower level will include a catering kitchen plus a bathroom and lift in the small addition.
Later, a third phase will address the outer shell; the fourth, the interior of the hall, the addition and the lower level; and last will be the final landscaping.
The committee welcomes donations of labor, materials and expertise to keep the project's cost to the taxpayers as low as possible. Financial support is welcome also. Please support the forthcoming fundraising activities in the works for later in the spring. Donations by check may be made to Town of Chittenden Historic Preservation Fund, Chittenden Town Clerk, PO Box 89, Chittenden, VT 05737.